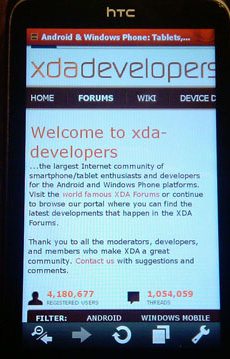 In Windows Phone 8 avremo finalmente una valida alternativa a Internet Explorer. Si tratta di Opera, l'efficiente browser web già disponibile e molto apprezzato su Symbian e altre piattaforme. E' Vadim Makeev, uno sviluppatore del team di Opera Software a dare notizia di questa possibilità, con la seguente dichiarazione fornita al sito russo WinPhoneLive.ru
Unfortunately, we do not comment on timing. I can say one thing, as soon as the ability to release Opera Mobile/Mini for Windows Phone (SDK in this case) is available, we will immediately do it. That is a full SDK for developing in C, for which we could use an existing generic code written for all platforms. Not with the current SDK for the Windows Phone platform. As soon as it appears, we are porting Opera Mobile/Mini.
Tradotto in poche parole, il porting di Opera per Windows Phone avrà inizio non appena il nuovo SDK con possibilità di usare codice nativo sarà disponibile (attualmente è solo in versione Developer Preview). Dunque se ci sarà una versione di questo browser web anche per la piattaforma software di Microsoft sarà solo per i device con Windows Phone 8.